Schedule of Activities
Submission of Nominees:
Date: On or before September 15, 2018
Screening:
Awards Night:
Date: November 26, 2018

Venue: Grand Ballroom, The Bellevue Manila 23rd Mabuhay Gold Awardee (2018)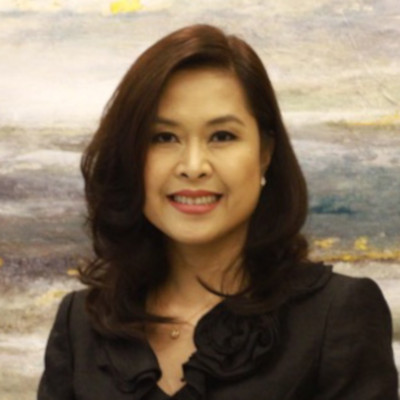 SIMONETTE V. GUSI
General Manager, Acuatico Beach Resort & Hotel Inc. and Acuaverde Beach Resort & Hotel Inc.
It's true what they say, from humble beginnings come great things. Born in the province of Batangas, Simonette Gusi came from a typical Filipino family with a mother who has taken a monumental leap to work in a foreign country and make ends meet. Fully committed to the goal of helping her parents, she was determined to finish her degree and to be able secure a good job. She finished her course of Bachelor of Science in Tourism at the University of the Philippines - Asian Institute of Tourism, Diliman, Quezon City.
An innate and passionate hotelier, she landed her first job in 1994 as a Front Office Receptionist at Holiday Inn Manila which rebranded to Traders Hotel Manila of the Shangri-la Group where she rose from ranks and acquired 11 years of rock-solid hotel experience. An opportunity to acquire her own resort came, thus, Acuatico opened its doors last 2008 with the goal of making it the most sought-after resort not only in Laiya but in the entire archipelago. She now sits as the resort's General Manager for the past 10 years. Along with her unwavering efforts to turn the vision into reality, Acuatico has been branded as one of the finest resorts locally and internationally and awarded with Trip Advisor's Certificate of Excellence Hall of Fame as well as the Traveler's Choice Award for consistently receiving great reviews. International recognitions from certified blog sites
such as Bright Side Huffington Post also included Acuatico as one of the renowned destinations around the world.
The year 2011 paved the way for her to manage concurrently the second property, Acuaverde Beach Resort, a nature resort with the widest beachfront in Laiya. Under her effective skills in this new business venture, Acuaverde received the Certificate of Excellence Award from Tripadvisor and was awarded with the distinguished HSMA Virtus Award for Outstanding Marketing Campaign in 2017 – A Pet Friendly Resort in Laiya. Through extraordinary grit and perseverance, she was able to beat the odds and bring the two properties to the pinnacle of success and international attention.
With the business flourishing, Ms. Gusi does not only create a resort that meets expectations and memorable experiences but properties that genuinely care. She has always articulated her belief that opportunity to build, own and manage the resorts is God's grace and gift and that we should not only run them very well but we should also ensure the blessing is shared to as many as possible. Acuatico and Acuaverde have been doing various programs and activities for the elderly, for the grade school children of the neighboring barangays, responding with various assistance to the less known but equally devastated places by Yolanda super typhoon and have been providing scholarships to the children of the resorts employees. Since 2014, Acuatico has been supporting the K to 12 Plus project of the German International Cooperation and the Philippine Chamber of Commerce and Industry for the Laiya National High School and trained the teachers and students in technical vocational tracks for Housekeeping, Front Office and F&B. This long term partnership aims to prepare the students for employment. To date, there are 156 graduates and 60% were hired by participating Laiya resorts.
Simonette is currently the president of ALRO - Association of Laiya Resort Owners and VP-Admin and Finance of GN Solutions, Inc., an infrastructure and telecommunications company, with husband Noli as CEO. They are blessed with two children - Patricia and Jose Rafael.
23rd Mabuhay Awards Finalists (2018)
Heart of the House Finalists
Front of the House Finalists