The 18th edition of the Mabuhay Awards, considered the "Oscars" of the hospitality industry in the Philippines, was held recently at Marriott Hotel Manila. It was an opportunity to showcase the recent achievements of the Association of human Resources Managers in the Hospitality Industry (AHRM) as they inducted new members and opened a new chapter in Davao City.
"The 41 finalists in the categories are already winners in their own rights, but those chosen for this year are considered the crème de la crème of the industry, and conferring them the honors for going beyond their duties is proof of the Filipino's unrelenting pursuit of excellence," said Vic Alcuaz, AHRM president and also president of Narra Hospitality. Vic is a respected authority in the tourism, hospitality, training, and services industry.
It was also an opportune time to honor the only surviving pioneer member-institution, the Hotel InterContinental Manila, which has consistently been with AHRM since its inception in 1974.
Long-time international hotelier and respected industry stalwart Merrill Yu was also conferred this year's Mabuhay Gold Awardee–Hotelier of the Year. For over 23 years, Yu took various positions and roles in the different hotel establishments from both sides of the Pacific as VP, executive director, general manager and resident manager, including leading hotel brands like Four Seasons, The Peninsula Group, MGM Mirage, and China's biggest hotel, Xianglu Grand Xiamen, which has a capacity of 1,525 guest rooms.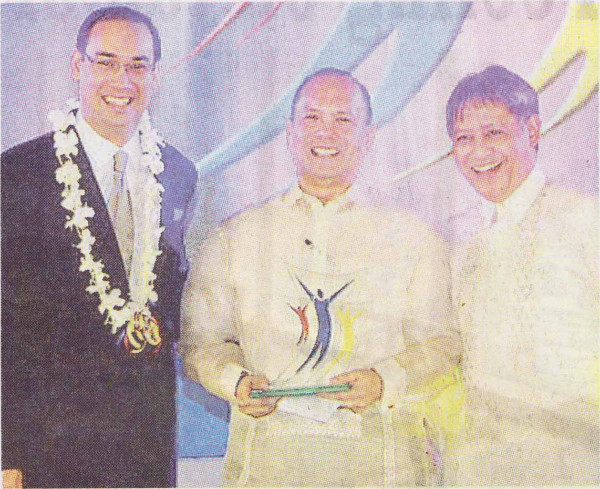 Among the recipients of this year's awards was the winner of the Rank & File "Heart of the House" category, Ma. Elizabeth Nicole B. Chico, sales coordinator of Dusit Thani Hotel Manila, who bested eight contestants from other hotels and restaurants.
She was chosen by a panel comprised of Dr. Rita Bantigue, AVP and learning and development head of Meralco; John Paul Cabalza, president of the Philippine Travel Agencies Association; and Edwina Lema Beech, president/ CEO of Mabuhay Personnel and Management Services Inc.
Ramil C. Buena of Diamond Hotel Philippines topped in the Rank & File "Front of the House" category. He was chosen by Wilhelm Bolton, director of business development, Lyceum University; Ernie Cecila DPM, executive director of People Management Association of the Philippines; and Jet Nera, managing director, Shine Jgnera Training Consultants.
Sofitel Philippine Plaza Hotel's Jose Jessie C. Adalia, assistant manager for the hotel's Spiral Restaurant, won the Mabuhay "Supervisor" Award. He was chosen by judges Marilen Fontanilla, editor in chief of F&B World magazine; Lorenzo Ed Valenciano, 2003 Mabuhay Gold Awardee; and Geronio G. Ulayao, OIC/ dean of the School of Hotel, Restaurant and Institutions Management, De La Salle-College of St. Benilde.
Sofitel director of conference and event Cynthia Esteban emerged victorious in the Manager category. She was chosen by Monette Iturralde-Hamlin, president of Team Asia and Philippine Association of Convention/ Exhibition Organizers and Suppliers; Maria Rica Bueno, director of tourism standards and regulations, DOT; and Fe Corazon Ramos-Muit, director, PMAP and former VP-HR, St. Luke's Medical Center.
Each of the four winners received an elegant Mabuhay Awards trophy and P25,000 cash reward.
Click here for a copy of the news clip.